This page Dedicated to the Memory of our Hero and role model, Franklin Delano Roosevelt. Dedicated in his memory this Second Day of May 1997.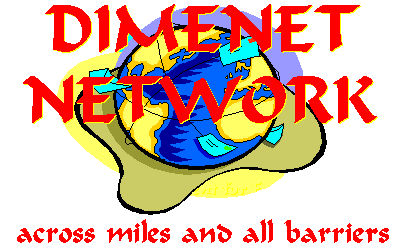 Access this web site in French, German, Italian, Portuguese or Spanish At Alta Vista Translator - Click Here and then click Translate.

President Roosevelt once said "If a Monument is ever constructed in my honor, it should be no bigger than the top of my desk". Here it is. In His Honor, We now Present the DIMENET Virtual CIL a place for organizing, sharing information and building the disability community on the net.

This is dnet.hotnews DIMENET Hot News Network. You can submit items for posting to dnet.hotnews by mailing them to hotnews@dimenet.com

Get Your "Expect the Respect" campaign posters FREE at the MOUTH Web site Do it TODAY!

Visit Dimenet Actions for news and information about direct actions happening around the world.

Visit Freedom Clearinghouse to learn how YOU can help Free Our People NOW!

Visit Stop Shrinks to find out the full story of what Dr. Brutal has planned for you.

Visit and Enjoy the ILRU-DIMENET On Line Independent Living Library

National Council on Independent Living Web site

Virtual CIL's Directory of CILS On-Line

NEW! He is Back. Check out the Johnny Crescendo website
Statewide Independent Living Councils
DIMENET SILC Web Archive Discussion Area
Massachusetts Statewide Independent Living Council DIMENET Web Archive and Home Page
Ohio Statewide Independent Living Council Web Archive and Home Page
Pennsylvania Statewide Independent Living Council Web Archive
Pennsylvania Statewide Independent Living Council's Consolidated Information and Referral Database Project
MetroWest Center for Independent Living Information and Referral Database
Tri-County Patriots for Independent Living Information and Referral Database
The DIMENET On-Line User Manual
And Bay State News
Or Take It To the Limit at The Nth Degree
A Little History Worth Knowing, In Memory of a Dear friend, Timothy M. Cook
Tribute to Ed by President Clinton
Justin Dart's Tribute to another Dear friend, Wade Blank
For Information on what its all about
and gaining access to DIMENET
Visit us here at the: DIMENET Home Page
DIMEWEB Our Neighborhood
JUSTICE for All
ADAPT American Disabled for Attendant Programs Today
Not Dead Yet !
MOUTH Magazine
Dimenet dev-access Computer Systems Access Web Archives
Disability Policy Document Archive
National Council on Disability Document Archive
Equality of Opportunity:
The Making of the Americans with Disabilities Act
by the National Council on Disability and Jonathan M. Young 715K
On a Roll Radio Home Page Featuring Greg Smith
On a Roll Radio DIMENET Newsgroup Featuring Greg Smith
Institute on Disability Culture
DIMENET Editorial Committee the Bleeding Edge
And the Electric Edge
The DIMENET Hot News Network Newsgroup within DIMENET can be used to post current events items that are important and need to be shared. Items posted to the dnet.hotnews Newsgroup will appear on the DIMENET Hot News Network Web Page located at http://www.dimenet.com/hotnews within one to two hours of posting depending on server and network load. Processing of new items into the web pages occurs every fifteen minutes.
DIMENET SITES:
Dayton, OH Access Center for Independent Living
Framingham, MA MetroWest Center for Independent Living
Washington, PA Tri-County Patriots for Independent Living

We welcome you to DIMENET.
Roland W. Sykes, Chairman DIMENET Editorial Committee

Our Aim, Move the Data, Fast!
Our GOAL, Empowerment through knowledge transfer.

The First Clues to Community Scenic Tour
Or Check out Dimenet Roadmap A Guide to the Internet
Or Take a Tour of The Disabilities/Industrial Complex

Independent Living Research Utilization
IL NETWORK Technical Assistance at TIRR (The Institute for Rehabilitation Research), Houston Texas
ILRU Job Bank

Research and Training Center on Independent Living At the University of Kansas

Independent Living Centers Take a trip and never leave the Farm

National Clearinghouse of Rehabilitation Training Materials.

Support for Internet Access provided in part by:



Rehabilitation Services Administration
U.S. Department of Education
All views expressed herein should NOT be construed to represent the opinions or policies of the Department

Support for Internet Access from DIMENET members is hereby acknowledged. In Memory of Chester Helms and Cheryl Elliott. Sure wish they could come out and play.

Disability Revolution COMMANDERS Field Manual

New Recruits Tour

DIMENET Hot News Network Web Archives
View DIMENET Hot News Network Newsgroup Archive Newsgroup Archives.

---
Page generation Copyright &copy 1998-99 DIMENET and TNET Services All Rights Reserved